Polishing the Dowgate Hoard...
A highly skilled task force of Management Consultants in a 17th Century cellar, putting systems round the Company treasure...
At midday on Wednesday 15th October 2014, a highly skilled task force drawn from the Court of Assistants of the Company descended into the subterranean depths below Skinner's Hall to inspect and polish the "Dowgate Hoard".  This collection of treasure had been uncovered three months previously by PM Geoff Llewellyn, who had ventured unaccompanied into a dark cellar guided only by clues imparted by our honourable Clerk and a recently discovered document entitled the "F A Register".  He was delighted to find that the acronym "FA" did not in fact have its usual meaning, but that there was Company silverware in that cellar!  The cellar appeared to date from just after the Great Fire of London, so the next step was for Assistant David Johnson to arrange for a man with a saw and a screwdriver to fit some shelves to better store our treasure and archives.  Unfortunately, he did not possess a straight edge but nevertheless the shelves are fully in keeping with the curvilinear walls of the 17th century cellar.  Thoughtfully, he provided for a thick layer of dust to settle on everything, thus soaking up some of the dampness in the air.
It was into this harsh environment that your intrepid polishing party descended – Bob, David, Gia, Heather and Lorraine.  Having found the light switch, our next task was to remove enough dust so that we could sit down and eat lunch.  We were immediately faced with an intra-team dispute – should we open the red wine or the white wine?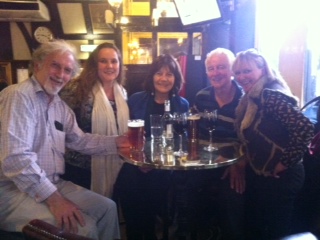 Heather came up with the brilliant compromise that we should open both, and the team started in a happy mood.  As management consultants, we then had to determine the optimal process flow before we could start polishing, and of course we also had to allocate team members to the most appropriate roles that would both use their talents but also allow developmental opportunities, while not reinforcing inappropriate gender stereotyping (but the ladies wore aprons and rubber gloves while Bob and David just rolled up their sleeves).  All this was complemented by a performance management system, systematic quality control and firm project management by Gia.
The polishing task force stuck diligently to their work over the next three hours, with the result that the Dowgate Hoard is now sparkling like real treasure.  All the polished items were placed into boxes and/or soft cloth bags in order to preserve them for posterity and labelled with their contents.  Some of the treasure was on display at the Installation Dinner – and yes, the silver polish was washed off the Loving Cups before they were used for wine.  The task force then returned to ground level and daylight and discussed the historical significance of the Hoard over a bevy or two ....
Assistant Bob Harris