Sustenance and the City
Liveryman and gourmet chef,  Reena Pastakia - in the interests of managing our stress - leads us through the City, from the Duck and Waffle in the a.m. to the end of the day Worship Street Whistling Shop....
Most consultants work in the City at some point in their career.  Whilst it can be entertaining to wander through the maze of alleys and passageways hoping to find a decent bite to eat or a shot of caffeine, I thought I would share some of my favourite places to get me through a stressful day.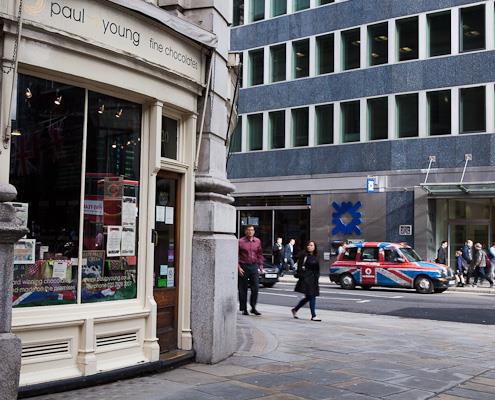 My favourite place to start the day is Duck and Waffle on Bishopsgate.  This uber-cool 24-hour venue has amazing 360 degree views across London. I recommend booking in advance – I tried my luck on a Friday morning at 5 am and it was full!  The title dish consists of two fluffy waffles, melt in the mouth duck confit, a fried duck egg and a jug of maple syrup.  I thought it would be too rich for breakfast but it took all of my willpower not to order another plate.
For something lighter or a mid-morning snack I suggest the Department of Coffee and Social Affairs.  It is located near Spitalfields market and has warm and helpful service.  The coffee is so good that I've requested that they start serving it in an intravenous drip to takeaway.
If you have time for lunch away from your desk you can find Burger and Lobster on Threadneedle Street.  With only three items on the menu (lobster, lobster on a brioche roll or (a somewhat overpriced) burger) – all priced at £20 this is not the place to bring a vegetarian. All are served with fries and salad and as long as you order the lobster or lobster roll this is probably the best value main course in the City.
My energy levels tend to dip by 3 pm and this is the ideal time to visit Paul A Young's Fine Chocolates in the Royal Exchange.  Mr Young's beautiful little shop would be at home in Diagon Alley and sells seasonally inspired artisanal chocolates including his award winning sea salted caramels.  Once you've bought your treat, head past the Bank of England to Taylor Street Baristas where you can linger over a well-crafted coffee.
To end the day I suggest relaxing at the Worship Street Whistling Shop where they serve the best Old Fashioned's I've tasted along with a selection of 60 gins.  It's conveniently located between Moorgate and Liverpool Street ensuring an easy journey home.

Liveryman Reena Pastakia - exercising her right to drive her sheep over Tower Bridge....