In a moment of madness at the end of 2012, Reena Pastakia quit her job and signed up for an Intensive Cordon Bleu Diploma course.....
Could you knock up puff pastry whilst simultaneously de-boning a poussin and making a cake ....?
I am of Indian descent and while I grew up learning how to cook a mean curry, the thought of making short crust pastry filled me with terror. That is until recently; Three years ago I quit my day job and enrolled on an Intensive Cordon Bleu Diploma course.
Within a few weeks I could whip up a latticed apple tart that will have you dreaming of orchards in Normandy with the first bite.  By the end of the course, I could knock up puff pastry whilst simultaneously de-boning a poussin and making a cake.
This transformation didn't come easily however;  the course is called "intensive" with good reason.  During the six months I cooked on average for 6 hours a day either at school or at home.  When I wasn't cooking I was either watching a demonstration or reading about the theory of food.  Coincidentally, in the first month, my book group read The Sharper Your Knife the Less You Cry  – a factual account of the author's experience at Le Cordon Bleu Paris.  So before I went to bed I read about someone else going through a similar experience to the one I was living during the day. The result was that I dreamt about cooking every night and ground my teeth for the first time in years. Historically I associated cooking with relaxation and leisure and I was taken by surprise by the demanding nature of the course. In retrospect it should have been obvious – after all we were being trained for the fast-paced atmosphere of professional kitchens. So whilst I was incredulous that the course was more stressful than my banking job, I did enjoy each day and learnt more than I thought possible. 
I am often asked why I chose to study at Tante Marie as opposed to Leith's School of Food and Wine or Le Cordon Bleu London –  both of which are much closer to home.  The main reasons were the -
•              length of the course – six month's of lost income was significantly more palatable than nine months.
•              staff to student ratio – as someone who likes regular feedback, this was important to me and at Tante Marie there is a ratio of one teacher to ten students. A friend who graduated from Le Cordon Bleu London stated that there were eighteen students in her class.
•              culture and atmosphere – The clincher was when Andrew Maxwell, the principal of Tante Marie, explained his approach to recruiting teachers:
"They need to have to have the right temperament – the patience for teaching.  They need to be able to hold themselves back slightly; if the pupil is doing something wrong they can't just jump in and correct them as making mistakes is the best way of learning".   
I don't thrive in fear cultures and this supportive approach to teaching resonated strongly with me.
I have to admit I struggled in the first term compared to the majority of my classmates and I suspect this is primarily due to the fact that I didn't grow up seeing my mum bake cakes or make pastry and stocks etc. In fact, the reason I wanted to do a chef's training course was precisely to learn these skills. The Intensive Diploma assumed more experience than I had anticipated and I had to compensate by practicing potential exam dishes in the evenings and at the weekends. As a result, my weekly food bill tripled for the six months duration and my fridge was stacked full of lard, whole trout, beef, pork and stock – ingredients I would never have even considered buying previously.  
We were regularly examined throughout the course with the first exam only three weeks in.  Thirty minutes before the test started we were presented with a three-course menu to prepare and serve in five hours split across two days.  The first day went really well but I panicked when French trimming my rack of lamb on the second day.   On the whole I did well though with a final mark of 70% against an average of 67% and a high score of 74%.  My feedback from our all-seeing examiner was that I sat a "nice exam" and that my food tasted good but my presentation was a little untidy in places.  Even now presentation is my weak point but it has improved!
The brief for the second exam was to design and cook a three course family meal for four people with a budget of £8.50.  As this was a budgeting exercise we had to account for every penny spent (we weren't allowed to use any special offers) and actually had to spend £8.50 exactly - not a penny more or a penny less.  Now that my accounting skills could be used I finally had an advantage!  My final menu consisted of my own dishes.  As I needed to incorporate all my newly learnt skills this meant creating new recipes that were within budget, could be cooked and plated within 2 hours 45 minutes and actually tasted nice! My final menu was:
            • Spiced mushroom tart with raita
            • Masala mackerel with potato bhajia and cumin mushy peas
            • Carrot halwa with cinnamon biscuits
Essentially it was an Indian take on a very British menu - pie followed by fish, chips and mushy peas with carrot cake to finish.  The exam went well, my fish was a little ripe (damn you Asda), but otherwise it generally went to plan.  My final mark was 73.5% against an average of 68% and the feedback from the examiner was that the food was presented nicely, tasted delicious and that I should keep cooking the recipes!  I can't begin to tell you how happy I was.  A professional chef actually liked my food!
By the second term, we were all on a level playing field.  None of us had attempted complex gelatin work, puff pastry, preparation of game or consommés before.  We were now applying the skills and techniques developed in the first term at an advanced technical level to produce food to the standards expected of the hospitality sector at the highest level.  Our penultimate exam was the same idea as the budget lunch but it needed to be a blow out celebration with a cost of £25.  This time my menu was:
·         Terrine of Capricorn goats' cheese, apples and celery served with a salad of toasted walnuts, Cox's apple batons and marinated raisins.  Accompanied by walnut bread (pictured).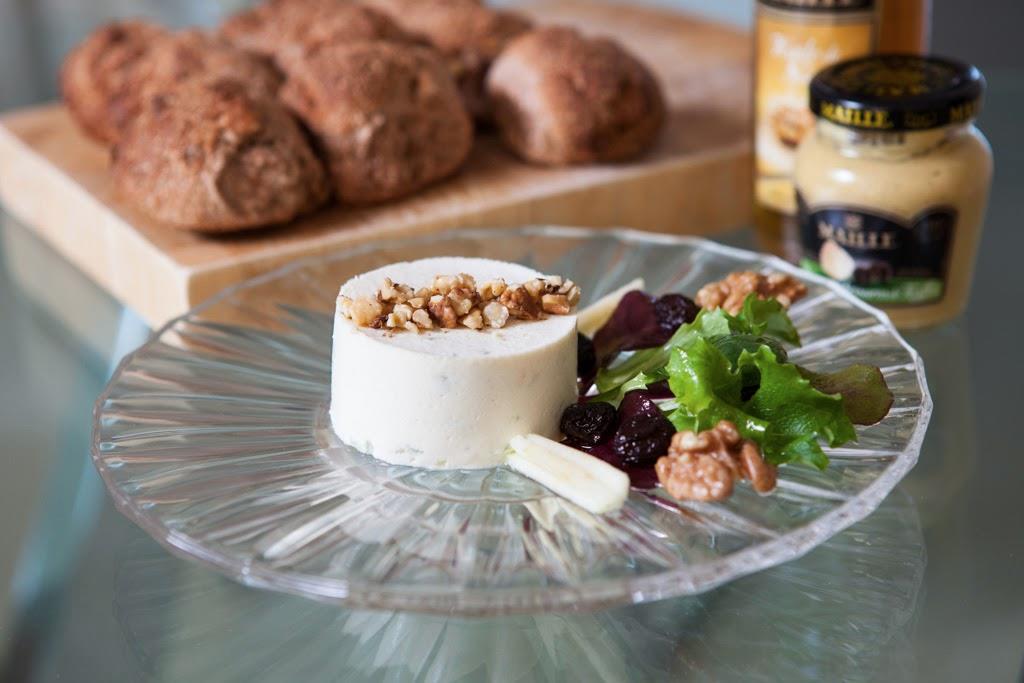 ·         Poussin stuffed with thyme and lemon served with lemon beurre blanc sauce.  Accompanied by parsley pureéd potatoes and peas with olive oil and mint.
·         Paris-Brest with pistachio custard and elderflower-poached strawberries.  Served with a chocolate sauce.
It really is incredible what you can cook within three hours on a tight budget.  If you compare the two menus you can very clearly see the development achieved within 5 months including the change in menu sophistication and flavour choices.  After the exam one of my classmates told me that I had been transformed and was flying around the kitchen.  In addition, she had overheard the examiners saying that if my choux pastry had been any lighter it would have flown away!
All in all, it was an incredible experience and I was privileged to be able to take the time and the money (in the region of £20k) to invest in my culinary skills.  I can't say that I enjoyed every minute or that it was a relaxing break from the office but I achieved my goal of being able to cook almost anything.  There are, however, a number of the skills I will never use again and so if you have similar aims my suggestion would be to decide what skills you are actually interested in and then find a short course that covers these specifically.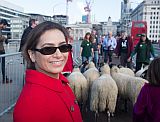 Liveryman Reena Pastakia exercises her right to drive her sheep over Tower Bridge...