The launch and first voyages of the TS Royalist....
The new Flagship for the Sea Cadets - supported by WCoMC
Letter of appreciation from the Chief Executive Officer of the Marine Society and Sea Cadets, together with a film covering the  build and launch of the TS Royalist - 
----- Original Message -----
From: Coles, M
To: Broomhead, A
Sent: Monday, December 07, 2015 3:33 PM
Subject:  Watch the TS Royalist exclusive film here ....
Dear Mr Broomhead
I am writing to share with you the link to our latest Sea Cadet film – the journey to create our new Flagship for the Sea Cadets. This film, shot over the year of the build and covering the launch and first voyages at sea offers a powerful endorsement of the motivations for embarking on the project.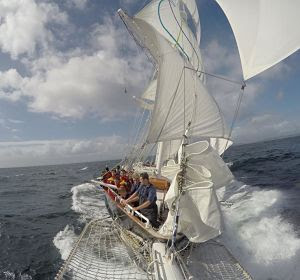 Please see it here and do share it with your friends and family: -
www.sea-cadets.org/flagshipbuild
You'll see the ship emerge as we fast forward through the build and share in the proud moment of the royal naming by HRH The Princess Royal and Commissioning ceremony, and the thrill of the first cadet voyages. It is the cadets' voices that bring home the impact this has and will deliver for Sea Cadets for decades to come. Their excitement, anticipation and enthusiasm for the vessel and all that it represents for them – friendship, adventure, challenge and determination is evident throughout and it is through your incredible support that we have accomplished this achievement for them.
I cannot thank you enough for having the foresight and generosity of sharing in this journey with us. Your support has been as transformational for us as the new flagship is for young people's lives. I hope that as we move forward we can continue on this journey together and help launch many more young people into adulthood through life changing experiences with the Sea Cadets.
Regards
Martin Coles
Martin J Coles| Chief Executive Officer
MSSC| 202 Lambeth Road | London | SE1 7JW
See also - http://www.ms-sc.org/