On a Wing and a Prayer....!
Twirling his handlebar moustache, PM Edward Sankey takes control of a Tiger Moth....
Had I flown before, the pilot asked. "Look buddy," I thought, "you're talking to a Management Consultant here. I've flown lots of times." Then, sitting on a hard seat in an open cockpit I realised he meant:  had I flown a plane hands-on?!
Well I hadn't. I couldn't see him in the other cockpit right behind me, but I'll bet he smiled broadly to himself.
I was going up in a Tiger Moth. If you don't know this 'plane, it looks very mothy, and you need the fierce concentration of a stalking tiger to control it.
It was at Duxford, site of the Imperial War Museum's exceptional air exhibition. I was kitted out in a good Biggles flying jacket and helmet. Where's a handlebar moustache when you need one? Back outside I strolled off to a good looking plane. The ground crewman swerved me round towards a small jumble of struts and strings. Looked like a bad accident. "That's the one" he said, still gripping my arm in case my legs wobbled. My legs wobbled. I was clearly in experienced hands.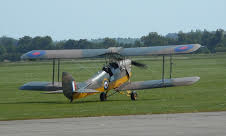 The Tiger Moth, or the de Havilland DH.82 as we cognoscenti (ahem) call it, was first designed in 1930-31. It's a  biplane with single engine. Nearly 9,000 were built, so I was concerned to hear that only about 250 are flying      today: what had happened to all the others?
 There were braces, rivets, screws, wires and fittings all over the place to keep it in one piece. No paintwork was  peeling off so I thought that should also help to hold it all together.
The instructions to board were clear. "Step onto the wing with your right foot just there. Don't put it anywhere else or you'll go through the wing." He didn't look as if he was joking.
The pilot, Craig, assured me he'd flown it before. We could speak together by intercom and I could also hear the Control Tower at work. Although best known for its air museum, Duxford is a popular destination for private flyers including people with veteran planes who fly in to meet up with other enthusiasts. So there was a lot for the Control Tower to do. Rapid exchange between Tower and Craig, and soon we were taxiing,
The little 'plane takes off quickly and we were soon at 1,000ft. Once clear of the airfield space Craig gave me a demonstration of the controls. His and mine were linked, so first I could just follow his movements. Then he said "Control is yours!"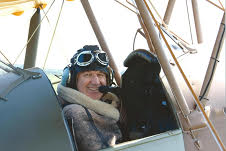 It's such a feeling! The 'plane was instantly responsive to just a small movement on the joystick, and the foot pedals to the rudder increased and then stopped the turns.
Climb, descend, bank left, right. The freedom in the air! Wind rushing by! I now see how people love flying in small planes.
Eventually Craig took us back. There had been Control Tower communications all the time as aircraft were arriving or leaving. I was truly impressed by the rapid delivery and understanding of technical information – call signs, airfield conditions, wind, requests to hold in a location, other traffic that is close, runway number, etc.
Back on the ground ("put your foot there!") it was wobbly legs time again, but this was the exhilaration and adrenalin at work, not having been able to work it off while held in the tiny cockpit.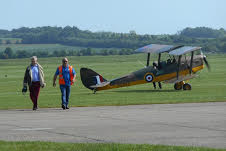 That exhilaration stays with me. Flying can be habit forming!
PM Edward Sankey