Wines fine from Rhine....
Not singing drinking songs while travelling in a splitter van, the intrepid Wine Club do their duty in the Southern Rhineland....
Those members of the Company who attended the recent Livery Dinner and the Education Supper will, I hope, have appreciated the wines served, most of which were purchased during the Company's Wine Club trip to the Loire last year. These trips enable us to taste wine that is unavailable in this country as it is produced in such small volumes that UK retailers are not interested, while buying locally and then bringing the wine back means that the price is low compared with the cost of wines in the UK.
On these trips we aim to build up the Company's cellar as well as our personal ones. Members of the Wine Committee participate in the Club's expeditions and purchase wines that they think we will all enjoy.
The Wine Club's trip this year was to Germany. Those raised on the likes of Liebfraumilch and Niersteiner Domtal might share my view that German wines historically fell into two categories – almost drinkable, and totally undrinkable. But in recent years they have improved and the Company's Wine Club decided to test this for themselves.
So it was just after dawn one Friday morning in April that nine of us set off from Patrick McHugh's house in Dulwich in a splitter van to travel to the Pfalz region of Germany, the wine-growing area in the Southern Rhineland.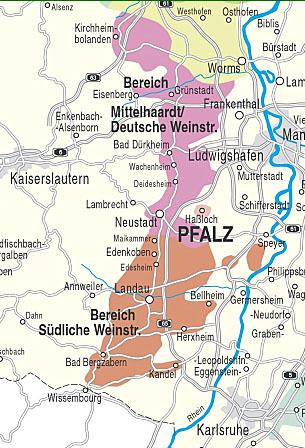 Splitter vans are more often used to transport pop groups, with a large luggage space for their gear.  Rather than musical instruments, we use the luggage space to bring back wine to London.
There were 15 people in our total party – another smaller van setting off with three, and another three who made their own way to Annweiler, the base for our tasting.
Patrick was our leader, and because we are high-minded management consultants, we do not sing drinking songs while travelling; we were briefed instead with topics on which each of us had to deliver a talk for the benefit of our fellow travellers. As well as topics related to German wine, a theme that has endured from our trip to the Loire last year is that of Eleanor of Aquitaine; her son, Richard 1st, was briefly imprisoned in Trifels Castle, close to where we were staying and to which we made a visit.
Over the two days we were in Germany, we visited four wineries and one shop. Our route to and from Germany also took us through the Champagne area of France, where we also made some purchases. One of my tasks was to keep a note of who had bought what. I can tell you that we bought some 22 different wines in Germany, and returned to the UK with rather more than 100 dozen bottles, some 30 dozen destined for the Company's cellar. Obviously we tasted many more wines than we bought, so as responsible citizens were transported between wineries by a locally hired coach.
You will be able to sample many of these wines at future Company events, so I won't attempt to describe all that we tasted, but to summarise some of what for me are some of the highlights of the trip.
Our first stop was at the Winterling winery where early on a Saturday morning we tasted a variety of sparkling wines. We arrived a few minutes early and Sebastian Winterling told us that his wife was out buying bread for our visit. Indeed, we then found ourselves given large quantities of bread, pate, and sausage; very tasty but a little soon after breakfast for us. We soon discovered that German portions are generous and frequent!
Mr Winterling had planned to charge us for the tasting, but was completely taken aback by the size of our order – more than 20 dozen bottles – so that he cancelled the charge and indeed gave us a discount on the list prices of the wines.
On we went to the von Winning winery. Here we were given a tour of the vineyard, factory and cellars, by their enthusiastic and talented vintner Andreas Hűtwohl. He got us to try wines from the barrel at different stages of their ageing; I have to say I certainly would not be able to make a prediction about the quality of the wine as each aged, and it reinforced my respect for winemakers.
We tried seven wines for buying from the Von Winning list; if anything, they are a little more expensive than those from the other wineries we visited, but were excellent. After our tour and our tasting, we had a massive lunch and, as a splendid bonus, Andreas gave us some Eiswein to go with our dessert. Eiswein is made from frozen grapes and is both low-yield and labour intensive; it retails at €80 a bottle, so it has not been bought for the Company's cellar. But we have another wine that we think members will enjoy.
Our day finished at a roadside shop that specialises in sweet wine. (If you want to know more about German sweet wines, take a look at Patrick McHugh's "Wine Wanderings" blog on the Company's web site). At the end of a day when we had already tasted a lot of wines, my powers of discernment were much reduced, but I was absolutely sure about a red wine I tasted made from the local Dornfelder grape: it smelled awful, and tasted even worse. Even at €4 per litre, it was too expensive! So Germany has not lost the art of making really bad wines.
On the other hand, the array of sweet wines was extensive and delicious. The ladies serving the wine were enthusiastic; no sooner had we sipped one wine than we were invited to try another two. I lost track completely, but came away with three different ones chosen almost at random…
The following day – Sunday – we visited two further wineries. At the first, Schneider, I bought their "blanc de noir", a white wine made from the red Pinot Noir grape, as much for its name as its taste. At the second, Nagle, we tasted the wines over lunch. Here we were bowled over by a Spatburgunder (their name for Pinot Noir) so much so that our party bought up their remaining stock! I can tell you that this wine has travelled well to the UK and some has been bought for the Company cellar.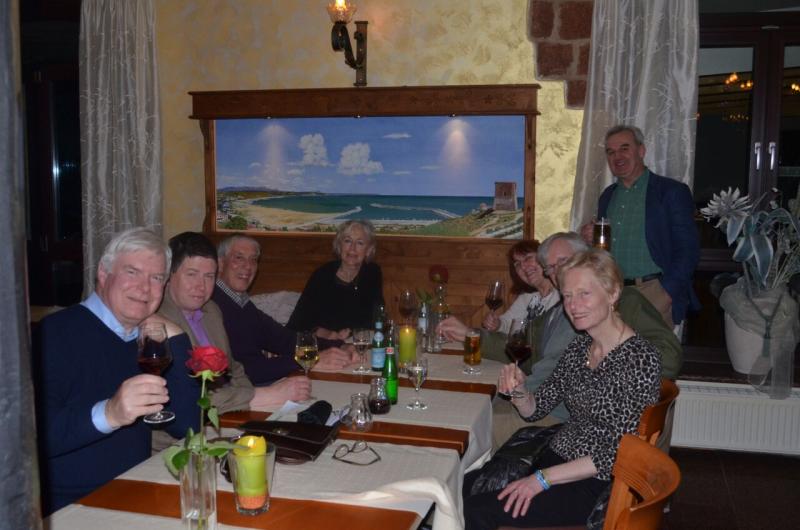 Monday saw our return to the UK and here there was a special treat: a stop at a  vineyard in Champagne, known to Patrick McHugh, where we were able to taste a fine  variety of champagnes made only from the Chardonnay grape. The owner told us that  he produces some 20,000 bottles per year (and matures them in extensive cellars that  he dug out by hand) in contrast with Moet & Chanson, the largest, who produce 26m  bottles per year. We were able to make a healthy dent in his stock.
 Our trips depend on careful research beforehand, and Patrick and Ian Daniell had  conducted the necessary reconnaissance towards the end of 2015, producing:
 - the hotel where we were staying
 
 - arrangements with a restaurant hard by, where we could sample excellent German                                                                                                        food and wine over dinner each evening
-  arrangements for us to visit local wineries, where we could taste and buy and, in the case of a couple of them, enjoy an excellent lunch
-  local coach hire to take us to our various destinations
… and probably much else too. The Club owes a debt of gratitude for all that they did to make our trip such a success.
And we look forward to future trips, combining the fellowship of the Company with the pleasure of tasting and buying wine, which all the Company can enjoy.

Father of the livery, Calvert Markham