A Mistress' Year...
On the rollercoaster of representing WCoMC during 2015/2016 as Mistress, Caroline Helm explores the pleasure and the fears....
I can't say I was very much looking forward to being the public face of WCoMC in the consort arena.   I felt under-qualified in at least two ways.   Firstly my professional life (as a child psychotherapist in the NHS) felt far removed from management consulting in corporate spaces although I did discover that a working knowledge of therapy with dysfunctional families was, perhaps, compatible.   The second way was social - I do not do small talk or smart clothes very well.   I therefore felt more than somewhat challenged as I was handed the beautiful mistress' brooch by Ann Chapman and also fearful that I would not be able to represent the Company in the way it deserves.  I was also afraid I would lose the brooch.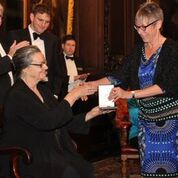 My first cheering encounter was at a luncheon at the Mansion House sitting next to Samantha Bowman. She confessed to me two major gaffes she had made already - only a very few weeks into her year as the wife of a Sheriff.   I am glad to say that sitting next to lovely people became a hallmark of my year.   There were the two Sir Andrews - first Likierman (the then Dean of London Business School) who firmly told me to lighten up when I waxed pompous on the subject of what I considered to be unnecessary ceremonial.   Then, a real highlight, Andrew Parmley (then Lord Mayor Elect) with whom I laughed throughout our company's Livery Dinner.   Another great neighbour was Philip - a 17 year old brought to the Change Lecture by the Master's cousin Kate, a mistress at Westminster School, who ended up sitting next to me at supper.   His handling of this encounter contributed to Kate's nomination of him as the next Head Boy of Westminster, which he duly became.
Masters' consorts' events are various - I found myself at the National Gallery, the Fan Museum, Fortnum & Masons, the House of Lords, making baskets with the Basket Makers and, most surprisingly for someone who has never voted Conservative in her life, the Carlton Club.   I really enjoyed meeting my fellow consorts and hugely appreciated their hospitality and generosity - so many fascinating places and delicious lunches.   I very much hope consorts of future masters will be in a position to reciprocate.
Although not strictly related to being the Mistress of the Company perhaps my most challenging moment of the year happened during the Wine Club's trip to Germany when Patrick McHugh volunteered me to give a talk on his highly favoured lady, Eleanor of Aquitaine, about whom I knew nothing.   I am now a modest expert and great admirer of Eleanor and the delivery of the talk proved to be a very merry occasion.
My year is now over.   I didn't lose the brooch.   I did enjoy myself.   I am very grateful to the Company for this opportunity and wish Kulbir very well.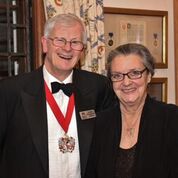 Caroline Helm