Review of Christian Eichert's Presentation - at SHOPTALK, November 2016
Out of the Closet and into the High Street....
This was a significantly different approach to our regular Shop Talk sessions and one that went down very well with just a few doubters.  It stretched the intellectual and moral base of us all.  Christian Eichert is Jon Moulton/WCoMC PhD Fellow at Cass Business School.  Jon, one of our Honorary Liverymen,  generously provided four-year funding on our behalf to ensure that research was carried out on a topic which would span both academic and consultancy interests.  Cass selected on our behalf Christian Eichert to develop his work on how sub-cultures change over time.  He is researching in depth the ways in which various subcultures move from the periphery towards acceptance by wider society, and in so doing are 'marketised'. 
He concentrated on the growth of the LGBT 'community' and showed how the issues of shared behaviours and beliefs around 'who we are?' are initially bonding but later can lead to fragmentation as these sub-cultures become more firmly differentiated.  Such fragmentation allows the identification of new market segments and, in academic terms, the development of Consumer Culture Theory to test whether the theoretical assumptions hold.   A lively debate was informed by examples from Harley Davison, Absolut Vodka and IKEA, especially around some of the ethical issues and what determines changing 'assimilation and integration'.
Christian continues his studies for another year and will report back to us at the end of 2017.  It should be a fascinating session.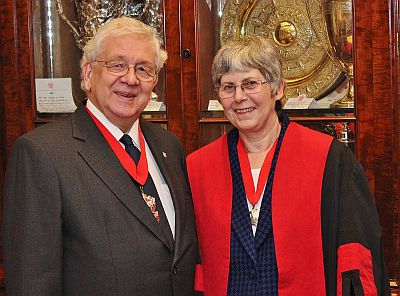 Past Master Bob and Third Warden Sally Garratt                                                            
Tel: 44(0) 20 7226 2403                
garratts@btconnect.com  /      www.garrattlearningservices.com