Sea Cadets activity week at Summer Rock - Cadets feed back...
"...40 cadets and 12 adults from London Area Sea Cadets, descended on the town of Newquay in Cornwall for 5 Days of adventurous activity..."
Feedback from London Area Sea Cadets,  following a recent meeting with Past Master, Alan Broomhead.
Summer Rock Report:
In August 2017 40 cadets and 12 adults from London Area Sea Cadets descended on the town of Newquay in Cornwall for 5 Days of adventurous activity labelled "Summer Rock 2017". Activities on offer were slightly different and more extreme than what the cadets of London area are normally used to.  Thanks to sponsors including the Worshipful Company of Management Consultants we could offer the cadets a multi-activity package which included mountain biking, coasteering, surfing and rock climbing with the help of the activity provider EBO adventures.
The idea of the trip was to get as many young people as possible out of London to experience unfamiliar surroundings and undertake unique adventurous activities., stretching their comfort zones, develop their leadership, teamwork and judgment in an exciting atmosphere, all of which will add to the cadet experience.
As a MOD Sponsored cadet force, we were able to use RAF St Mawgen as a base which provided us with good food and comfortable accommodation throughout the week, as well as facilities for cadets and staff alike to relax in the evenings - much needed after a six-hour drive on the Sunday after a very early start! On arrival after picking up accommodation and recovering the group was split into 3 with each group taking it in turns to do either the mountain biking, the rock climbing or a day of surfing in the morning and coasteering in the afternoon.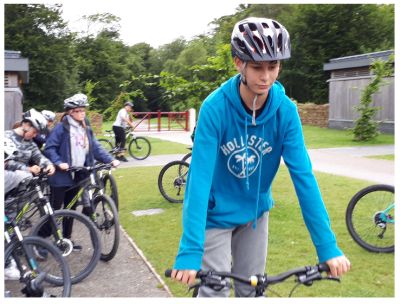 The mountain biking was based at The National Trust Centre at Lanhydrock starting with gentle trails before moving onto more advanced single track routes and taking us into the woodlands of the estate. Some cadets even progressed onto the short areas of difficult single track route, while all cadets visited the skills area and where able to practice and progress with their mountain bike skills such as jumping (and, for some, falling!) The mountain biking proved quite challenging for some cadets with plenty of bumps and scrapes but hugely enjoyable for all, with cadets gaining knowledge they can put towards sea cadet qualifications in the future. Something several of them seemed interested in pursuing. We had a wide mix of ability with some cadets already being proficient and 2 cadets who had never cycled before. While these cadets started a little gentler than the others with circles around a car park learning gears and brakes, by the end of the day they were on the easier cycle trails.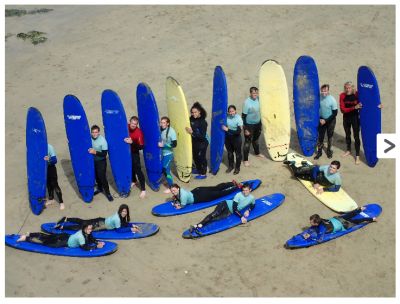 Surfing was done on Fistrall Beach in Newquay itself, famous for its waves and very popular with surfers of all abilities. The beach was packed and we were blessed with glorious sunshine. The previous two groups surfed through drizzle and rain, this being no problem at all once the cadets where wet suited and in the water looking for the perfect wave. Surfing was a new experience for everyone and is harder than it looks! Despite this there were a few that managed to get up on the boards and surf a few waves but everyone came out smiling.
Newquay was also the site of the coasteering with groups taking the afternoon to climb, jump, swim and explore the Towan headland between Fistrall beach and great western beach in Newquay. This was the highlight of the trip for many cadets and a truly terrifying experience for some of their instructors. Great team spirit was shown, encouraging and cheering on each other when nerves caused some to hesitate on the bigger jumps.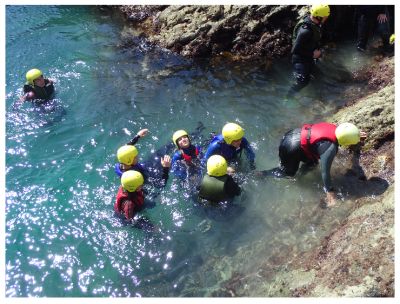 Swimming amongst the waves between rocks and exploring caves, a true adventure was had by all exploring the coastline. A brilliant activity that I would recommend to anyone, one that we will hope to repeat and one that has been talked about amongst cadets since.
We found some time to offer some indoor rock climbing, thanks to Granite Planet climbing centre in Falmouth who allowed us to use their facility at very short notice. Many cadets have climbed before at climbing walls in London; it's  an activity that is always very popular - it was nice for them to have the ability to explore a new wall and to work on their skills with many logging climbs towards their cadet and national governing body qualifications. Such fun was had we ended up staying for many hours with everyone exhausted by the end.  Fortunately climbing finished just in time for groups to visit the seaside town of Falmouth for ice cream before heading back to camp.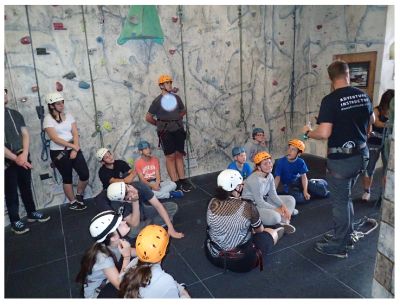 The return Journey on Friday was broken up by a visit to the Fleet Air Arm Museum at Yeovilton. We bumped into sea cadets from the international exchange program that were also visiting the museum on their journey from Weymouth to London. Cadets could even see the Royal Navy training with its new wildcat helicopters in RNAS Heron next door to the museum.
Overall a great time was had by all with so many cadets having so many new experiences which have been talked about since, with cadets sharing their stories with their host units. We have had many cadets keen to go on similar events again and new cadets interested. I feel that interest in adventurous training within London has increased since this event with more cadets showing interest for rock climbing and mountain biking courses. I hope that the experience will lead to more cadets developing some of the pursuits they sampled. None of this would have been possible without the kind support of sponsors such as the Management Consultants, for which we are very grateful.
Adventurous Training staff officer
Letters from two Sea Cadets: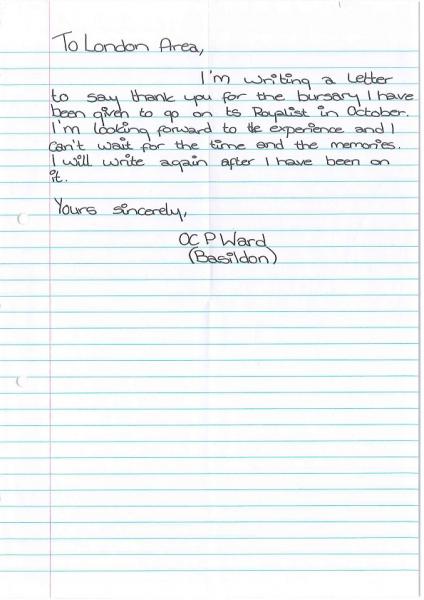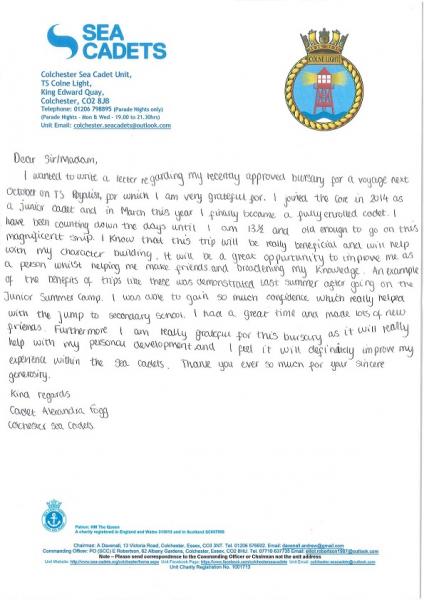 Sea Cadets' feedback - from:    
Lt Cdr (SCC) Cliff Lewis RNR | Training Manager London
Marine Society and Sea Cadets | London Area Office | HMS President | 72 St Katharines Way | London | E1W 1UQ
T: 020 7481 7372 | M: 07775 410556 | E: clewis@ms-sc.org | W:  http://www.ms-sc.org