The softer skills of being a charity Treasurer....
The Company's charitable fund recently provided funding for the development of "The Honorary Treasurers Handbook" which offers essential advice, information and support for Charity Treasurers and Board Members on how to strengthen their financial accountability.
The content was produced by Kate Sayer, Judith Miller and Arlene Clapham from Sayer Vincent, a leading UK firm of chartered accountants working solely with charities and social enterprises.  It was edited by Second Warden, Denise Fellows, who is also the Chief Executive of the Honorary Treasurers Forum which published the handbook.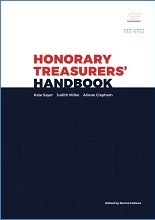 Many books and guides explain charity accounting, but they don't cover all the aspects of an Honorary Treasurer's role.  The role of a Treasurer can be highly diverse. They provide advice and support in many areas related to finance, and also serve as the go-between for the finance staff (where present) and the trustee board. They need accounting knowledge, but also the skill and competency to work well with others and to ensure that other trustees are enabled to fulfil their own responsibilities for finance.
This handbook aims to help navigate through the 'softer' aspects of the role.   The Handbook can be downloaded free of charge from the Honorary Treasurers Forum website.

Denise Fellows, Second Warden