Lt. Col. Brian O'Rorke - Master 1996-97 Worshipful Company of Management Consultants
Annual Service 20th September 2018 –Delivered by Michael Jeans Master 2001-02
Good evening Everyone.  Seeing the Chaplain's Candlestick being carried by the Clerk as she processed into the church reminded me of our recently retired Chaplain, Bill Penney, whose wife Penelope recently passed away; I'm sure that our thoughts and prayers are with Bill this evening.
Given that 2018 represents the 25th Anniversary of the formation of our Company, originally as a Guild in 1993, the Master has asked me to say a few words about one of the prime movers of its creation.
Some 25 years ago there were a number of us who had got to know each other quite well through involvement with either MCA (Management Consultancies Association) or IMC (Institute of Management Consultants) or both - though the organisations were not that friendly!   One was seen to represent predominantly the 20 or so major firms and the other individual management consultants – but that's another story!
Many of those, including myself, who were involved with both MCA and IMC valued our friendships which were not confined to our particular firms; in essence, we wanted to find a way of continuing those friendships once we had demitted office from our respective MCA and IMC roles.   The formation of a Guild, leading eventually to a Livery Company, seemed to be a fruitful route to follow.
Brian was Executive Director of MCA from 1985 to 1997 covering the period of the initial idea of a Guild through to its creation.   He rapidly became engaged with the idea of creating a Guild.   Being Brian, he not only became engaged but was one of the major drivers of its formation.  His energy level was formidable!   Brian was not a practising management consultant but he became an enormous ambassador both for the industry and the profession – and, of course, the then fledgling Guild; he was awarded an MBE in 1998 for service to management consultancy.
Brian was a lover of tradition even though he would also fight it!   He was commissioned into the 8th Hussars in 1952 and was in command of the Queen's Royal Irish Hussars when he retired from the Army in 1977.  Perhaps unkindly, we often referred to him as having served in 'The Camel Corps'!
Brian's love of tradition led him to commission the production of a 'Mace' for the Company which was presented at The Master's Dinner 18th May 2000.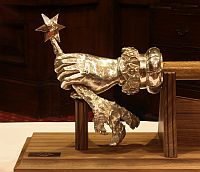 It is a magnificent Company treasure but suffers from just one problem: for the Beadle to carry, it is extremely top heavy (Brian's generosity with the amount of silver involved in the design!).  I understand that this may be the first time that it has been laid in front of the altar at this Annual Service.
I have one particular personal memory of Brian.  I was scheduled to be the Guild's third Master following David Miller and Calvert Markham; just six weeks before I was due to take office, I encountered a number of very difficult personal issues in my life.   I told the Court of the Guild that I could not succeed Calvert as Master.  As a result, I left the Guild with a very difficult predicament – no Master in six weeks' time!   But, ever the loyal person that he was, Brian agreed to stand as Master – and was obviously elected!
Throughout the rest of his life, Brian remained committed to the Guild, Company and Livery Company.   Thank you Brian for your service – we owe you a great debt of gratitude.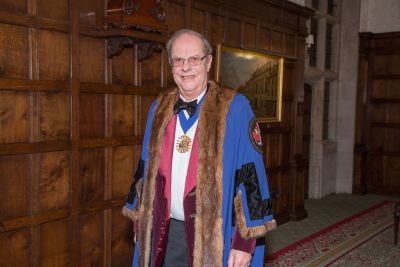 Michael Jeans, Past Master 2001-2002
[photographed here as Master, Chartered Accountants]