Our next Master: Nick Bush recalls her (and his) rock'n'roll years
Nick Bush recalls the Master Elect's rock'n'roll years (and his):
When people ask me how I got into the Company I usually mention that I have known Denise Fellows since student days, often adding that "she was once a roadie in my band". In the interests of full disclosure then, it's time to tell the story of those heady 1970s days…  Since early childhood – perhaps inevitable growing up in the time of The Beatles et al – I had wanted to play the guitar. It's not been an easy path: my first instrument was apparently a plastic toy that melted when left too close to the fire and to replace it my parents bought me a banjo in a local auction (old guitarist joke: what's the difference between a banjo and ukulele? A banjo takes longer to burn!). I distinctly remember the day when I realised that it sounded better if you didn't try to strum the instrument with both hands so armed with this technical knowledge, I eventually acquired a proper guitar – albeit acoustic – and tried to learn to play it properly. Two fine guitarists were enlisted to help me in this: Bert Weedon whose "Play in a Day" book taught me basic chord shapes and gave me an early introduction to poetic license (it took longer than a day…) and American folk singer Pete Seeger's Guitar Guide LP, which started with the immortal phrase "the first thing we gotta do is get it in toon". Not equipped with the best sense of pitch I found this pretty tricky and – confession time – it wasn't until A-level Physics taught me to use "beats" that I fully got the hang of tuning.
By the time I entered the musical backwater that was Aberystwyth University (bands didn't like to make the long and winding journey along the A44: those that did got a rapturous reception) I'd acquired what could be described as a basic rock technique, a home-made electric guitar that I'd bought off a friend when he got a Gibson SG for his birthday, and an A-level in Physics/guitar tuning. I was raring to form a band, having had a couple of abortive attempts at school, and got to know a few aspiring rock and roll stars amongst the student fraternity. By the second year we managed to form a band and put together three or four songs for a short set at a Christmas party. It took a vast number of rehearsals to put together covers of "Back in the USSR", "Paint It Black" and our closing medley of "Let's Work Together" and "Johnny B Goode" but it went down well enough to get us a few more gigs including at the start of the summer term what can only be described as the band's big break – and also the introduction of Denise the Roadie.
Because of Aberystwyth's aforementioned inaccessibility the student entertainment committee had been unable to book any touring bands for the Coming Up Ball at the start of term and had to rely on home-grown talent – which included my band! Denise was a friend of the band's other guitarist and helped us set up by carting a couple of amplifiers into the University' Great Hall. The gig was a blast – well, I enjoyed it anyway as did some of a doubtless Newcastle Brown-fuelled audience – and I still have a cassette tape of most of it, which conveys a certain pre-punk rock energy and rudimentary guitar technique.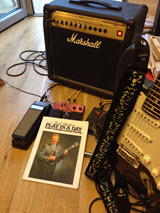 And there, readers, we have it: whilst I'd like to say that Denise continued to be the band's trusted roadie, driving us around Wales in a Transit van, fending off legions of admirers, ensuring supplies of the right coloured M&Ms etc, I am pretty sure the future Master's rock'n'roll career began and ended with that gig in the Great Hall.
The band continued for another year with a slightly changed line up as some people (not me) decided their studies were more important and I left University with an Honours degree (just about), a job offer (I ended up working with Denise at Sema Group) and some happy memories. Since then I have acquired some better guitars, learnt to play jazz, played in a couple more bands and brought up two children to be actual musicians rather than part-time ones.
On holiday in Italy last month I gave my company email address to a car hire firm. "Open Chord?" the assistant said, "Are you a guitarist?" I nodded. Music – it's a universal language and we're all the better for it.
Nick Bush