The Company Treasure - Part 2
Geoff Llewellyn is our guide to the Company's Treasure
It is the long tradition of the Livery Companies to accumulate works of art and ceremonial items, such as Loving Cups, Candlesticks, Salvers and other table ornaments to add a sparkle to their dinners.   The Skinners' Company display of Treasure in their Hall is a wonder of artistry and style stretching back over 300 years as are those in the Halls of the other Companies where we hold our events.
By comparison our Company's quarter-century's collection is modest but it is case of "great oaks….". We have been very fortunate that several members of the Guild and Company have, individually or in groups, made splendid gifts of decorative or practical items to build our Treasure.
Our Treasure is varied and includes the Company Mace, The Wardens' Quaich and the Satjit Cup.  The list goes on, but each item was donated by Past Masters and members of Court. 
The first two Treasure Stories were included without much preamble in Newsletter Issue 60: The Wardens' Quaich and The Mace.   
This time we'll look at the Silver Anniversary Salver.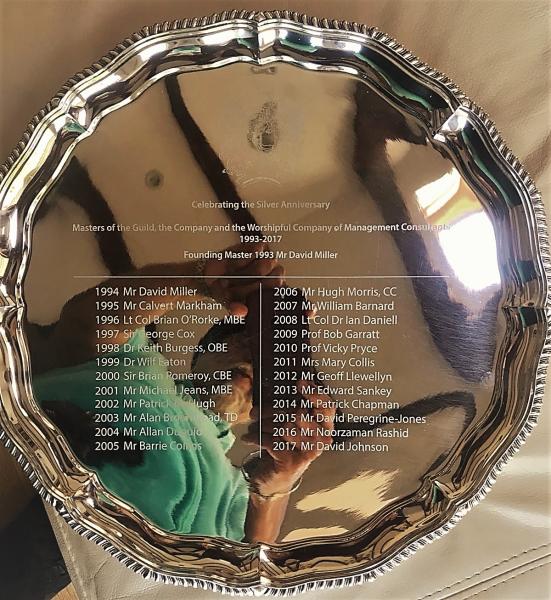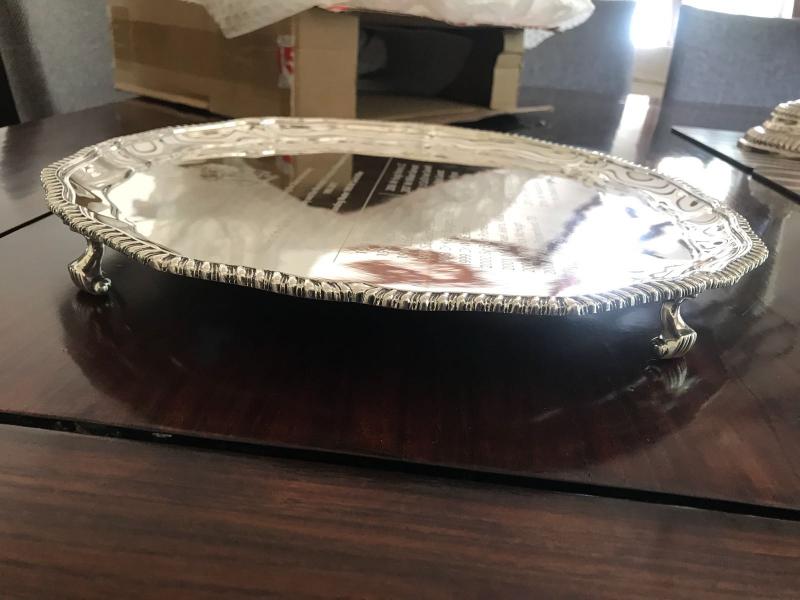 This splendid Salver was presented to the Company at the Celebration Dinner at the Honourable Artillery Company (HAC) in July 2018 having been engraved with the names of the first 25 Masters of the Guild and Livery Company of Management Consultants.
It seemed very fitting to mark this auspicious anniversary with a gift of silver, and the gift was presented by a group of recent Past Masters – Bob Garratt, Vicky Pryce, Geoff Llewellyn, Edward Sankey - and our then Master, David Johnson.
In a hilarious presentation speech PM Geoff Llewellyn (ED:  remember who's writing this) observed that just as the Master Skinner has an exquisite silver salt cellar in the form of a leopard – known as "the Master's cat" – the Master Management Consultant could now boast of having "the Master's frisbee". Somewhat more difficult to throw than is the cat to stroke!
The greatest challenge faced in arranging this gift was to find a salver large enough to accommodate the names of 25 individuals with a profusion of pre- and post-nominals in a confined space. This problem was eventually solved with the invaluable assistance of a friend of Liveryman Satjit Singh – appropriately known as Lucky (honestly!) - who tracked down one of the largest antique salvers anyone had ever seen!
Having also tracked down a presentation box large enough to hold it, the salver will now sit proudly in front of the Master place at dinner and will shortly be provided with a stand – preventing its use as a salver, but easier to grab as a frisbee! 
Geoff Llewellyn