Faith Group - The Longer-Term Impacts of the Pandemic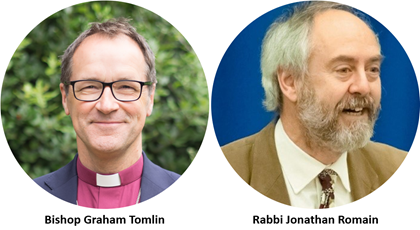 John Watson reports:  "A wide audience from our own and other livery companies were privileged to hear contributions from two eminent speakers at our virtual Faith Group event on 23rd June.  We had thoughtful reflections by Bishop Graham Tomlin and Rabbi Jonathan Romain, both of whom spoke on the subject of "the longer-term impacts of the pandemic and the contribution that faith communities can make."
Master Denise introduced the speakers and Bishop Graham kicked off, focusing on 4 areas where faith communities could have a role:
Fostering neighbourliness: Parish structure and other faith networks offer well placed resources to continue the neighbourhood linkages that have formed during lockdown.
The power of volunteering: Some 10 million signed up to some form of volunteering; the 40,000 churches and other faith communities can provide hubs for community volunteering.
Focussing on the common good: Before lockdown, there was a greater focus on the individual, the pandemic has brought out the willingness to put society's needs first.
An improved environment: the beneficial effects of reduced pollution, fewer planes & cars, hearing birdsong have been noted and it will be important to opt for sustained benefits.
Rabbi Jonathan stated that the impacts of the pandemic could go either way; he spoke of the ugly and beneficial effects of the pandemic:
Ugly: panic buying, fly tipping, domestic violence, abuse, rise in the divorce rate, rise in alcoholic and gambling addictions, lack of work, feeling of being diminished.
Benefits: kindness, phone calls, mini-concerts, clapping the NHS, sense of local community, time with children, learning simplicity and humility in community.
The potential wider Impacts would be both positive and negative:
Positive: Noise and pollution reduction, less need for cash, bursts of creativity in projects and businesses, valuing our leisure time more, the Zoom revolution.
Negative: More home working leading to a feeling of isolation, grim economic forecasts, danger of slipping back to the "old normal".
The breakout groups and final plenary session gave an opportunity for further debate and questions to the speakers. In summing up, Rabbi Jonathan felt that "how we all decided to use our time in the future" would determine whether or not the long-term impact would be more positive or more negative.  Bishop Graham pointed out that disruption also meant opportunity, at personal, family and organisation levels.  The longer-term impacts on all communities therefore depends very much on the post pandemic choices that each of us decides to make."