A glittering arrangement of world-recognised celebrity artists
At the Ealing  Music & Film Valentine Festival, many of these celebrities were there in person.
Some of them had managed to incorporate Art into a full personal life, and others had sacrificed children and personal happiness to give audiences at home and in foreign countries the emotional and visceral experience of a lifetime.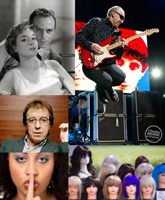 World famous practitioner of her art, a name and face instantly recognised, yet this Daughter of Ealing was imprisoned for gun-running, was involved in a failed revolution in Panama, was married to a diplomat (who was shot and paralysed by the husband of one of his lovers) and died of starvation – living on cornflakes, in a hut in Panama that had a tin roof, no electricity, no running water and no phone, and was buried initially in a pauper's grave.  Margot Fonteyn, brought up in Waldeck Road in Ealing, remains the only stage performer ever to have appeared simultaneously on the covers of Time Magazine and Newsweek.  Her first professional engagement when she was 13, she danced professionally till she was 67.
I saw interviewed Dame Beryl Grey, the first English dancer to appear as guest ballerina with the Kirov and Bolshoi Ballet and with the Peking Ballet and Shanghai Company (with a Chinese partner).  By the best possible of all interviewers.  Tony Palmer, a legend of the South Bank Show and maker of documentaries about music and musicians, wearing the trademark garb of the serious Art professional - the black polo neck – in the most relaxed fashion delicately drew from her the details of her extraordinary life and the scale of her artistic achievement.  She was a terrific subject.  With total recall of the practical vicissitudes of an Artist's life,  a life that was one of continual performance and learning.  Nine performances a week.  Continually on tour.  Rehearsing on railway station platforms while waiting for the train.  At 14, arriving alone at a station at night, with nobody there to meet her, she found her own way to the theatre and the wardrobe mistress, who had completely forgotten about her arrival.  Conditions of wartime seemingly implanted stoicism, total lack of expectation that resources would be available when needed, and attitudes of Can-Do-No-Matter What, in Artists as well as in most others.  She and the others absolutely loved all of it, she said, and the terrifyingly hard work involved she translated into the sheer joy of being the best.  A very revealing final comment on the current state of her art  (and she seems barely to miss any important performance)  is that  she can leave feeling very impressed – but "unmoved" – by renditions that are now much more athletic, energetic and technical.  Somehow the visceral and emotional performance is, at least for now,  she said, a thing of the past.   
Only the second Ealing Music and Film Valentine Festival, five days of top-quality entertainment in culture and the arts has been generated by a Commando team, with the dual purpose of bringing locals and Londoners to Ealing's pretty Town Centre during deepest February, and raising money towards scholarships for talented young Ealing musicians.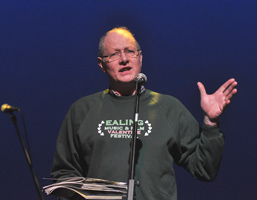 The Festival Trust is Chaired by Patrick Chapman, First Warden of the Worshipful Company of Management Consultants, and as one would expect from a jobbing Manager of excessively complicated projects, not a single detail was left to chance.  A friend and I were taken through the corridors of the University of Westminster to see Dame Beryl Grey by student "Ambassadors", who insisted on escorting us from door to door.  A great stress reliever when one is trying to negotiate an unfamiliar labyrinth.  Patrick and his local Councillor wife, Ann, were indefatigable.  Literally everywhere at all venues, in their Festival T-shirts, charmingly hosting celebrity guests and performing every conceivable practical task.  Talent, glamour and warm hospitality all over the place.
An early supper prior to the evening concert at the beautiful Ealing Town Hall, at what must be the best Fish and Chip restaurant in the London environs  - directly  across the road.  I ate a fish I'd never heard of that rhymed with something one shouldn't say.   I shall certainly dine there again next year.
John Gibbons  elegant & articulate, led the audience and the Ealing Symphony Orchestra, to huge applause, through a lyrical programme of Prokofiev: Romeo & Juliet;  Dankworth: Clarinet Concerto;  (Cleo Lane was there, listening to her late husband, John Dankworth's brilliant piece which had unaccountably been sitting on the shelf for 19 years.)  The clarinet solo was given by Emma Johnson, former winner of the BBC Young Musician of the Year award and of the Young Concert Artists Auditions in New York. Finally, Lambert: Horoscope  (written for Margot Fonteyn, whom he apparently dumped at the door of a Registry Office,  where she was waiting to be married to him);  and Tchaikovsky:  Sleeping Beauty & Nutcracker.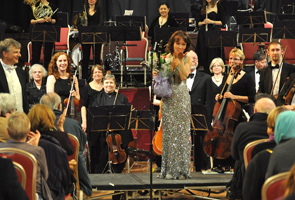 I had been to the Royal Opera House the night before, and in my opinion the Ealing Symphony Orchestra and its Conductor, John Gibbons, made the ROH ensemble look like amateurs! 
Can't wait for next year!
Elizabeth Consalvi
Livery Secretary, and Editor