National Youth Orchestra
WCoMC support converted into music
WCoMC is sponsoring a violinist member of the National Youth Orchestra,  Angus Bain, through their "Take a Seat" campaign.  Here Angus describes his experiences throughout the Winter and Spring sessions of 2012-13.  It sounds a wonderful programme, and clearly he is making great progress.  We are proud of him, and he is happy with our support.
Winter 2012-13 session
"Dear Worshipful Company of Management Consultants,
I am writing to you to thank you for supporting me in the NYO throughout 2013. This is my second year in the violin section of the orchestra and I have thoroughly enjoyed the opportunity to develop my orchestral playing whilst being surrounded by extraordinarily talented and also very friendly musicians. It truly is an experience like no other since nowhere else do I get the chance to play such challenging yet exciting repertoire in incredible venues, from The Sage in Gateshead to the Royal Albert Hall in the heart of London.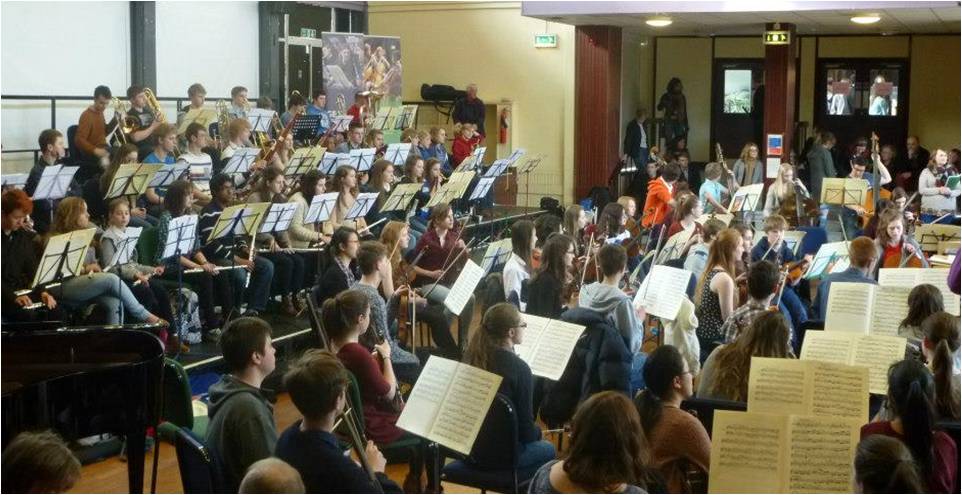 Performing Messiaen's Turangalila at the BBC Proms with Vasily Petrenko was definitely one of the highlights of last year and of my entire musical career, but I will never forget the buzz I got from the very first full orchestra rehearsal when I realised how privileged I was to be part of such a unique organisation. On each of the three courses that we attend in the winter, spring and summer we are fortunate enough to be coached by a group of tutors with a large amount of experience in the music profession who pass on their advice and help to develop all aspects of our playing, such as technique and ensemble playing. I feel I have improved significantly since I joined NYO, not only in my playing but also other attributes which I can apply to life outside of the orchestra, in particular confidence and an ability to work well within a team.
In addition to rehearsing and performing musical works, there are some social activities which help to bring the whole orchestra together and make the NYO what it is. There is a section night on each course which is always fun and last year we had a New Year's Eve Ceilidh which was a great way to meet members outside of my section.
I'm really looking forward to continuing this amazing experience and this year I am part of the string leadership team so I hope to be able to develop my leadership skills and act as a role model to the younger members. The repertoire this year is particularly thrilling so I hope you will be able to perhaps attend some of the concerts. Thank you very much again for your support and for making all of this possible.
Yours sincerely,
Angus Bain     – NYO – Winter 2012-13"
And his activities in the Spring session - 
"Dear Worshipful Company of Management Consultants,
 Thank you very much for your continued support of my place in the National Youth Orchestra of Great Britain. I thoroughly enjoyed the winter course, particularly the opportunity to perform Holst's The Planets in the Barbican with the inspiring John Wilson. Being part of the String Leadership Team has helped me become more confident in my abilities and responsible and I have been able to transfer these qualities to my solo and local orchestral playing.
            Since the last residency, each member was encouraged to raise £60 each for the NYO so I received sponsorship to start learning the flute so that I can take grade 1 in the summer. Not only has this been great fun but it has also made me more aware of the challenges faced by wind players, which will help whenever playing chamber music as I will be able to understand their parts more easily.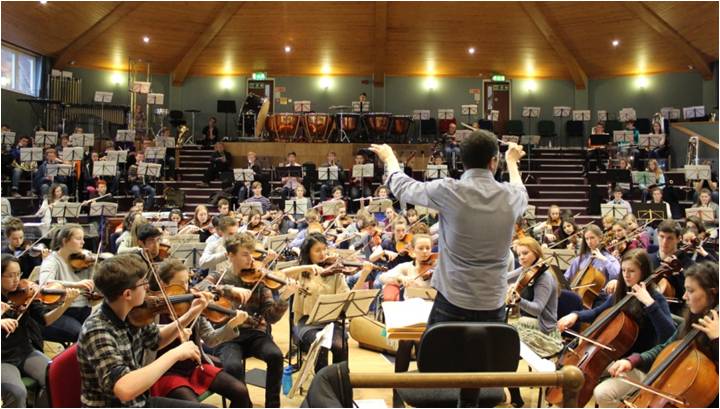 At the start of this course, I took part in an NYO Inspire Day with the principal players and other string leaders in which we collaborated with younger, less experienced players from all around the North East to play in a large orchestra. It was essentially a chance to give them tips on how to practice amongst other things and to hopefully inspire them to one day join the NYO so was a very rewarding experience.
            The repertoire for this residency is particularly exciting - from the soaring Hollywood melodies in Korngold's film score to Captain Blood to the wacky world of Schoenberg's arrangement of Handel's Concerto Grosso for string quartet and orchestra – so I am really looking forward to our performances at The Sage Gateshead and the Royal Festival Hall. We are also working on Stravinsky's Symphony in Three Movements and Symphonic Dances by Rachmaninoff with a dance workshop later on in the week to teach us how to waltz as preparation. Also, there will be a chance to play through some chamber music with the Navarra String Quartet (with whom we are playing the Schoenberg) which should be a very useful and enjoyable session.
            I have recently been asked to take part in playing at the Queen's Coronation Concert in July at Buckingham Palace with a scaled down version of the NYO which will no doubt be a truly memorable experience. Once again, thank you so much for your support as none of this would be possible without your sponsorship.
Yours sincerely,
Angus Bain
NYO Spring 2013"