Even though accused of heinous crimes - the Master unaccountably released....
Upon proffer of a huge bail, the Master is released from the Tower of London...  Did he, in fact - amongst other allegations - take the Clerk's high heeled shoes from the Office?
To his great consternation, the Master was "arrested" at Mansion House on 19 June! Arraigned before a splendidly robed "judge", the Sergeant-at-Arms and most fearsome when he chooses to be, the Master was charged with various crimes, of which the most heinous was taking the Clerk's high heeled shoes from the Office. The Master was urged to be much more discreet about his private activities.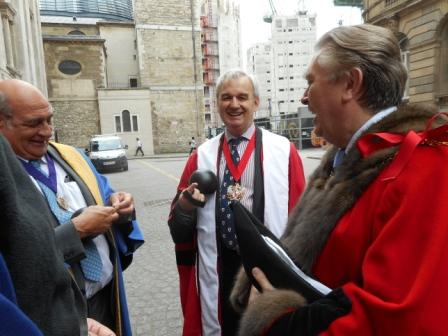 The Master - seen here in denial, although being read his rights - pleaded in mitigation that he thought they were his wife's, but it cut no ice, and he had a ball and chain clamped on him by the City of London Police.
Marched to the Tower in his robes (the planned open top bus had broken down!) Edward was forced to spend three hours there under the eyes of the Beefeaters until his bail was paid. It seems it was not so bad a time though – many other Masters were there, as was the hanging judge! And word has it that the "bread and water" were better than a working consultant's usual lunch!
Many members gave donations for the bail, and a total of £1,174.96 (£1,454.96 including Gift Aid) was raised for the Red Cross. . Edward is very grateful to all who gave.
To our great relief - and seemingly incognisant of the fate he has so narrowly escaped - the Master is released back into London and City Society.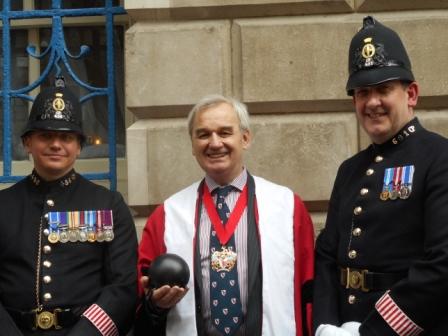 To encourage donations, Berry Bros & Rudd very kindly gave a bottle of fine 2000 Charles Heidsieck champagne to be given to a random donor. The winner was Assistant Heather Matheson, in a blind draw made by the Beadle and witnessed by the Clerk!