Alan Harpham - In Memoriam 6th January 2014
Alan contributed to WCoMC and the community in very many ways
Alan was a well-liked and active member of our Company for many years, particularly his work on the Pro-bono Committee and in undertaking pro-bono consultancy and mentoring assignments for a range of charities. One of his recent pro-bono clients was Impact MH, a charity supporting mentally ill people in Bedfordshire, and the CEO Deanne Clarke said what a shock it was to lose Alan so suddenly and at such a young age.  This sums up our feelings perfectly.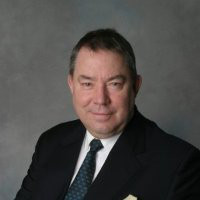 Alan contributed much more to the Company and our clients than through his own pro-bono assignments and attendance at Company events.  As Chairman of APM Group, he arranged their sponsorship of the Charities Supper in 2012, and a year later he again arranged for APM Group to sponsor a table at our inaugural Celebration Dinner in May 2013.  Alan also presented the Company with a carved wooden crest which hangs by the office door in Skinner's Hall, and he arranged for his son Richard (an expert kayaker/canoer) to provide a day's kayaking as a prize in one of our Charity Auctions.
Outside of our Livery Company, Alan contributed to the community in many ways.  For example, he became a volunteer chaplain to the East of England Ambulance service, and loved the time he spent volunteering as a Street Angel walking the streets of Bedford town centre at night.  He was also a fervent Scottish rugby supporter and a member of local club Northampton Saints. He leaves behind his wife Di, a priest still assisting in the local parishes, two sons Richard and Matthew and an extended family which includes many refugees.
http://harpham.com/news-alan-harpham