Go-Karting in support of the Lord Mayor's Appeal
In which we field a "Racing" Team - and don't come last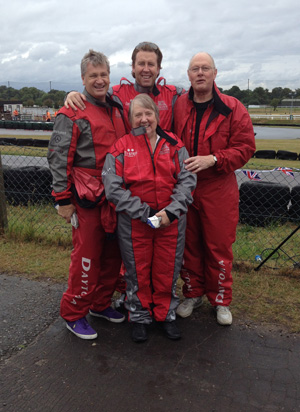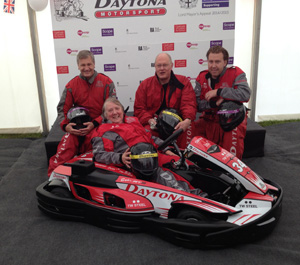 I am delighted to report that after an eleventh hour request for WCoMC to join this new event, we managed to field a full team of four drivers. We all assembled at the Daytona Circuit located in the middle of Sandown Racecourse at Esher on 26th July, nervously eyeing up the weather. Did someone say it was summer?
The race was organised by the Glovers' Company with the aim of helping the Lord Mayor - yes he was driving - bolster his Charitable Appeal. There were some 26 teams in total, ranging from boy racers (no comment about the number of "ringers" and teams who called themselves names like 'The MG Racers') to the more sedate Sheriffs. We were ranked somewhere in the middle of all this and I am glad to report we did not come last. Just. Come in Kart 17!
The rain (mostly) held off and we enjoyed adding our Company name to the list of esteemed participants. Hopefully in future years - assuming the Go-Karting becomes a fixture in the Lord Mayor's Appeal calendar - the competition may well be held around Guildhall. Now that will be something to see.