Lord Mayor's Parade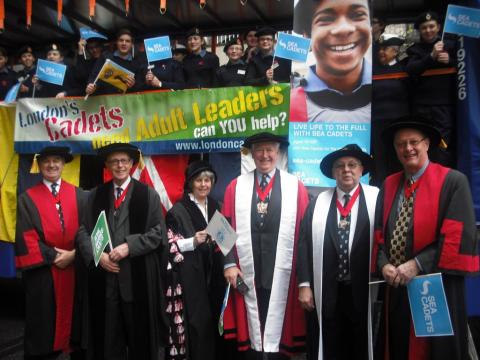 The Lord Mayor's Show – it didn't rain!
On Saturday 10 November 2012, the Company was represented in the Lord Mayor's Show procession by a marching party of the Master, Past Master Bob Garratt, First Warden Edward Sankey, Second Warden Patrick Chapman, Assistant Sally Garratt and the Clerk.
For the first time in several years, it didn't rain and unexpectedly, the new lunch venue – the George pub cross the road from the Royal Courts of Justice - gave a superb view of the proceedings as the new Lord Mayor arrived there to take the Oath of Allegiance to the Monarch.
As in previous years the Company's party marched with the Sea Cadets, whose London area Director, Commander John Greene, made us very welcome behind the Cadets' marching band and, with newly issued academic caps, the party doffed and "high-fived" their way around the route!
The photos show the marching party and the Lord Mayor's Coach waiting outside the Royal Courts – unfortunately the coach broke down and had to be recovered by a breakdown truck – the Company members, however, covered the whole distance and recovered with a welcome drink at the City Livery Club!