WE WANT TO KNOW.........
..............What you are doing when you are not working.
We know that many of you are undertaking wonderful pro bono work on the Company's behalf, but beyond your immediate family and the tennis club, we want to know what you are doing. We've already featured Sherlock Markham Holmes in our July 2013 Newsletter and now news reaches us of Liveryman John Pulford's involvement in Tower Hamlets,  but please tell us how you are spending your time beyond, or at the keyboard, if you are a literary type (see our book launch item). 
John is one of the Company's nominee directors on and Chairman of the Cass Business School Centre for Charity Effectiveness Trust, but when he is not there or at one of the charities he serves, he is an active citizen in the London Borough of Tower Hamlets. John lives in a City fringe area variously know as Shoreditch and Hoxton, but in electoral terms it is part of the constituency of Bethnal Green and Bow, which has the first woman of Bangladeshi origin to become an MP, Rushanara Ali, Shadow Education Minister.
Four years ago after taking part in a consultation about the Council's proposal to designate much of Shoreditch as a conservation area, John was co-opted to the Planning Department's Conservation and Design Advisory Panel. Local authorities are required to have these panels by the Government's National Planning Policy Framework. Panels get to see and influence the conservation and design aspects of key planning applications before they are'determined' for approval or rejection. John's initial concern about whether he could make a contribution alongside expert architects and urban designers was soon overcome when he found his chairing skills and consulting experience was needed to steer conflicting views into a consensus which would be of use to both the developers and the Council's planning officers. Before he knew it, John was made Chairman of the Panel. With a long maritime history along its Thames boundary, the East End rag trade, Brick Lane, some of TechCity and all of Docklands and Canary Wharf in the borough, there's no shortage of interesting and controversial developments to consider.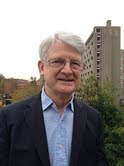 Like PM Patrick McHugh (see September Newsletter) John has a long standing interest in charity governance. This lead him to take an interest in the governance of Tower Hamlets Council. One thing lead to another and in September this year John was appointed an Independent Member of the Council's Standards Advisory Committee. Clearly he is looking for trouble, as this committee is responsible for the conduct and discipline of the elected councillors, anti-fraud and corruption plans, covert investigations and for review of the Council's performance against targets set by Government and the Ombudsman, including housing repairs, handling complaints by the public, information governance and Freedom of Information requests.  John is not prepared to go on the record about proceedings so far, other than to say "If you live in a vibrant area, but which has levels of deprivation as bad as any across the nation, there's always going to be challenges."
John Pulford MBE