Video Shoptalk - 7 May 2020
This will be the second video conference version of Shoptalk - no longer in person at the Artillery Arms but using the Zoom video conferencing platform. Booking is open to Company Members.
  
​
Led by Damien Caldwell and Valentina Lorenzon
Two members who have recently joined the Company will lead the discussion by talking about their experience and current interests in management consulting:
Damien Caldwell is a service digitisation consultant and knowledge solution architect.  In 2017 he founded the digitisation company DAMGEO Ltd, whose core objective is to provide seamless facilitation in moving legacy knowledge bases into dynamic digital systems.  He has led many successful digitisation projects with clients including Best Buy, Capita, Children's Law Centre, EDS, SKY, Sprint, US Postal Service, Volunteer Now and varied global public-sector bodies.
Valentina Lorenzon is an international family business expert, mainly focusing on multigenerational planning and next-gen engagement.  For the last 15 years she has been working both within her own family business based in Italy and with clients all over Europe.  She has extensive, first-hand experience in legacy transfer, cross-generational collaboration and inter-generational mindsets.  She is a strong advocate of cultural awareness as a way to increase international business success.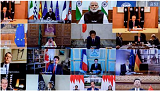 Join our video conference and listen to what Damien and Valentina have to say, then join in a facilitated discussion of ideas and opportunities amongst participants. You will need to provide your own drinks available to facilitate the discussion!
As we gain experience with our planned interactive virtual events, we will be limiting the number of participants so please book early.  We will also be issuing 'participation guidelines' as well as login details to those registered to participate to help ensure that it runs smoothly.
Members can click on this Participant Listing link to see who has booked.
Dress code may be casual but respectable.
When
7th May 2020 from 5:30 PM to 7:30 PM
Member only event
| | |
| --- | --- |
| Is this a member only event? | Yes |