Admission Ceremony and Virtual Tour
A double header of ceremony and culture.  This event is open to Company Members and their guests.
  
​Our Virtual Admission and Award Ceremony
We will start the evening with a virtual Admission Ceremony: 
Admission of a new Freeman
Clothing of a Freeman in the Livery
Re-admission of a Liveryman
This will be followed by the award of the Wardens' Quaich to a Member who has made a major  and sustained contribution to the Company over the last few years.
Dickens' Magic Lantern Virtual Tour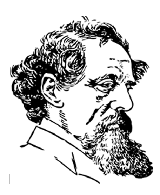 The second part of the evening will comprise a virtual tour of Dickens London.  Join us for a  virtual wander through the City streets on the 150th anniversary of the great author's death and discover the sites which formed the background to his life.  We will see where he first arrived in London, where he first fell in love and the beautiful Wren church which inspired so many of his characters. We will also visit the sites mentioned in his books including Newgate prison where Fagin spends his last desperate hours and the irrepressible Mr Pickwick's favourite pub. 
The tour will be led by Gina Mullett who is keen to share her knowledge and enthusiasm for her home town. She is a qualified and experienced guide being both a London Blue Badge Guide and City of London Guide.  Gina was also Take Walks Guide of the Year 2019.
There will be a small charge (per screen) for the evening, but you can have more than one person sharing each screen. Please note that payment will be via PayPal.
Members can click on this Participant Listing link to see who has booked.
Dress code is Business Attire for those involved in the Admission Ceremony.
When
December 1st, 2020 6:00 PM through 7:30 PM
Location
Zoom Video Conference


Joining Details will be sent to Registered Participants

Event Fee(s)
Members & their Guests (charge per screen)
£ 9.00

(includes VAT of £ 1.50)
Member only event
| | |
| --- | --- |
| Is this a member only event? | |