MMIW#14 - Action Learning - Monday 26 September
This continues our series of presentations on previous roles and past projects involving Members of the Company, and is open to Company Members and their guests.
  
​

TANKS, BOMBS, MAO AND WEINSTOCK
AN EVOLUTIONARY APPROACH TO CONSULTANCY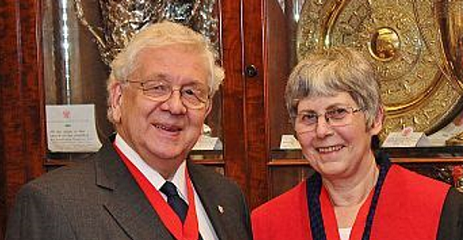 Bob and Sally Garratt will take us on a whirlwind tour through their 50 years of management consulting.  They describe it as a non-career of frequent, freelance, international travel without a package of predetermined answers.  It has led to many intriguing projects where the invitation to help a client starts with their initial response of "We haven't a clue, so let's talk. You may not need us".
Through this work, they have created much safer environments for Executives and Boards to challenge their strategic thinking without risking public exposure and humiliation.   It has now led them to challenge the great global "Social Silence", about the assessment of the qualities needed in our leaders of all types of organisations – private, public, charitable and family office.
Join our video session to sample their journey and help develop your "action learning". To encourage spirited questioning from the start, a short descriptive paper will be sent to all participants in advance, plus a timeline on management consulting since 1950 where you can chart your own journey.   
Members can click on this Participant Listing link to see who has booked.
When
26th Sept 2022 from 6:00 PM to 7:00 PM
Location
In Person - Location TBA


Joining Details will be sent to Registered Participants


United Kingdom
Member only event
| | |
| --- | --- |
| Is this a member only event? | |