Annual Church Service and Reception Thursday 22nd September 2022
Our annual service of celebration, dedication and thanksgiving. Please book if you plan to attend the service and/or the reception following the service.  This event is open both to Company Members and Non-Members to book.
  
​Annual Service of Celebration, Dedication and Thanksgiving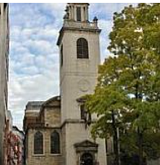 All Members and their guests are invited to join the Annual Church Service at St James Garlickhythe - the Company's church in Garlick Hill. Sir Christopher Wren designed the rebuilt St James in 1683 after the Great Fire to be full of light, since when it has become known as 'Wren's Lantern'.
Details of the service will be made available on the day, but it will include a section where we will remember the life and contribution of Past Master John Corneille.The service will be led by Fr Tim Handley of St James Garlickhythe. Before the church service, there will be an opportunity to join the Court procession from Vintners' Hall to the church.
Those interested in joining the procession should be at Vintners' Hall on Upper Thames Street by 17:00 at which time the Master and Wardens in their gowns, and Members of the Court, will process to the church.The processional party will include a display of the new Company Gonfalon and the Company Mace. The planned route after crossing Upper Thames Street is up Dowgate Hill, left along Cannon Street, and left down Garlick Hill to the church. The estimated duration is 15 minutes. Court Assistants not wishing to process can walk directly to the church, along with Members wishing to travel directly to the service. 
There is no charge to attend the service but we ask that you register to assist in managing the seating arrangements, and there will be a collection during the service in aid of the church. The service will commence at 17:30, but please arrive at the church and be seated by 17:20. 
Autumn Reception
After the service, we will hold a reception at the rear of this wonderful church which will enable you to catch up with colleagues over a couple of glasses of wine, followed by the opportunity to continue at a local pub or restaurant.  There will be a small charge for those attending the reception whether or not you attend the church service.
Please register to attend the service in person or remotely, or to reserve your place at the reception. (You do not need to make separate bookings for both the reception and the church service).
Participants already booked are shown here.
Dress code is Business Attire.
When
September 22nd, 2022 5:30 PM through 7:00 PM
Location
St James Garlickhythe




Garlick Hill




London

,

EC4V 2AF



Event Fee(s)
Members & their Guests
£ 12.00

(includes VAT of £ 2.00)

Church Service only in-person
Church Service via Livestream
Member only event
| | |
| --- | --- |
| Is this a member only event? | |