Coronation display, Talk and Reception at Lambeth Palace Library
The Company's Faith Group is delighted to announce a unique event in association with the Coronation. It is a special assisted tour of 'The Coronation From The Middle Ages to Now Exhibition' being mounted by Lambeth Palace Library. The exhibition is unprecedented and draws on the records of Lambeth Palace over centuries.  This event is open both to Company Members and Non-Members to book.  The || Register Now || button will be visible to the right when bookings can be made.
  
​The Coronation Display, Talk and Reception.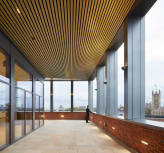 All members are invited to this Faith group event, which will be held at the new Lambeth Palace Library (LPL) from 3.30 pm to 5.30 pm on Monday 12 June 2023.
There will be an expertly assisted tour of the unique exhibition by Lambeth Palace of "Coronations from the Middle Ages to the present day". We will see and hear about interesting historic documents and articles relating to the link between the Church and the Monarchy through the remarkable ceremonies of Coronation since that of Henry I in year 1100.
Our Chaplain, Father Tim Handley, will then introduce our eminent speaker Revd Canon Jeremy Haselock who will give us his reflections on:
"The challenges of being King and Supreme Governor of the Church of England in a multi-faith society".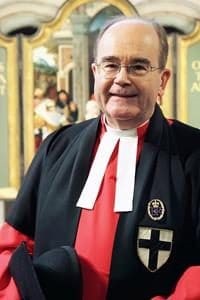 The Talk will take place on the 8th floor with marvellous views of Big Ben and the Houses of Parliament, where we shall enjoy a cream tea and English sparkling wine reception. 
Our speaker, Revd Canon Jeremy Haselock, read History at university but moved into the field of Art History, working primarily on medieval stained glass.
He trained for the priesthood at St Stephen's House, Oxford while reading for the Honours School of Theology.
He was Vicar of Boxgrove and Diocesan Liturgical Adviser in the diocese of Chichester before being appointed Residentiary Canon and Precentor of Norwich Cathedral in 1998 where he was Vice-Dean from 2003. He was appointed Chaplain to The Queen in 2013.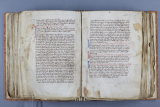 While a member of General Synod from 2000 to 2015 he was a member of the Liturgical Commission, the Cathedrals' Fabric Commission, the Council for the Care of Churches and the Church Commissioners' Bishoprics and Cathedrals Committee. He is a Fellow of the Society of Antiquaries, Warden Emeritus of the Guild of Church Musicians, and has a DMus from the Episcopal seminary at Nashotah in the USA. Father Jeremy is also an Associate Priest at Great St Bartholomew's, a City church of great distinction.
Tickets are £50 per person, including VAT, and are open to Company Members and guests to a maximum 60 attendees. Please click on this link to see who has booked.
Subject to availability, members of other livery companies where our Chaplain Father Tim Handley is also the honorary Chaplain, will be invited to register from Friday 12th May. So please book promptly to be sure of a place.
Please note that payment for this event will be processed by Stripe.
Dress code is Business Attire.
When
12th Jun 2023 from 3:30 PM to 5:30 PM
Location
15 Lambeth Palace Road




London

,

SE1 7JT




United Kingdom
Event Fee(s)
Members & Guests
£ 50.00

(includes VAT of £ 8.33)
Member only event
| | |
| --- | --- |
| Is this a member only event? | |