The Lord Mayor 2016-17
 
The Lord Mayor intent on everyone singing from the same hymn sheet
The article below has been reproduced from The Times Saturday 12th November 2016 (by Martin Waller)
The City looked beyond the customary bankers and lawyers for its figurehead
WCoMC Honorary Liveryman Dr Andrew Parmley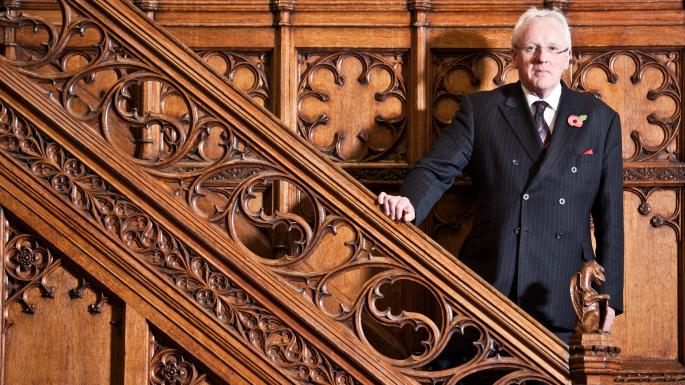 City historians are pretty sure that, in the 827 years during which the post has been in existence, a music teacher had never been appointed lord mayor of London before. It is certain that, of the 688 men and women who have had the honour, none has performed on stage with Abacus, the tap-dancing camel, or Mary Chipperfield's ice-skating chimpanzees. Andrew Parmley's route to becoming the 689th in the position has been an unconventional one.
Dr Parmley took up the mayoralty yesterday at the silent ceremony at Guildhall, so-called because nobody makes speeches. He faces a gruelling year as the City's official ambassador, much of it spent outside the UK promoting its financial industry.
Recent lord mayors have been drawn from the financial services industry and included investment bankers, lawyers and stockbrokers approaching the end of their careers. Dr Parmley's ascent to the mayoralty began 25 years ago when he was playing the organ at St James Garlickhythe, a church in Vintry, one of the City's wards and just down the road from his new residence, Mansion House.
"I was befriended by a longstanding member of the court of common council," he said. This is the equivalent of the normal council debating chamber in another local authority, but the City of London Corporation uses its own abstruse terminology. "He said: 'Have you ever considered joining the court of common council?' I said: 'What's the court of common council?' "
He was elected for Vintry ward in 1992 and progressed to the role of alderman in 2001. He continued the usual well-choreographed advance towards the mayoralty, serving as sheriff two years ago and supporting Sir Alan Yarrow on his trips abroad as lord mayor.
Dr Parmley graduated from the Royal Academy of Music and returned to his native Blackpool to take up the post of musical director at Blackpool Pleasure Beach: "Rather strange hours, but a full-time job." He married Wendy, a fellow musician, whom he had met at school. She landed a job at a school in east London. Dr Parmley had wanted to work as a musician in theatre, but then it was a closed shop: no Equity card meant no job.
Instead, he signed up for a PhD at London University, his subject 17th-century French opera. This brought him into contact with William Christie, an expert in early music, with whose performing group he recorded several albums.
At this time his involvement with St James Garlickhythe began and so eventually with the corporation. "If you are an organist, you can only play in churches," he said. He has also worked with jazz and rock bands and in a touring production of the musical Godspell. "My wife said: 'Time to get a proper job.' " Dr Parmley took a teacher training course in Cambridge and became director of music at Forest School, east London, progressing through a series of private schools to become head of Harrodian, an independent in Barnes, west London, where he set up the senior school and became its principal.
Despite a quarter of a century's involvement with City politics and membership of several of the livery companies. he could still be viewed as an outsider to the world of finance. "Once in a while, it's OK to have someone from a slightly different background," he said.
Traditionally the job has gone to people who have completed a career in finance and are sufficiently well-heeled to afford the expense and, presumably, a year without a salary. He said simply: "The opportunity came my way. Why would you turn your back on it?"
Those who know him say he is chatty, "very collegiate", if not necessarily with the gravitas yet that earlier lord mayors have adopted. His non-financial background is not seen as a disadvantage. A City insider said: "Many people don't understand how many court of common councillors and aldermen come from very varied backgrounds. It's not a narrow place. There are teachers or people running small businesses."
Curriculum vitae
Born October 17, 1956
Education Blackpool Grammar School, Royal Academy of Music, Manchester and London universities, Jesus College, Cambridge
Career: 1979–81 director of music, Blackpool Pleasure Beach; 1983–92 director of music, Forest School; 1992–96 director of music, South Hampstead High School; 1996–2001 director of music, The Grey Coat Hospital, Westminster; 2001–present head, then principal, The Harrodian School, senior school, Barnes, West London; 1992 Member of court of common council, Vintry ward; 2001 Alderman, Vintry Ward
Family married to Wendy
His recent predecessors have entered the post at a distinct disadvantage, promoting and defending an industry tarnished by the fallout from the financial crisis. Dr Parmley thinks that his unusual background and northern roots may prove to be an advantage. "I'm very upbeat about it. I'm not part of that industry. I'm not part of the south. I see myself still a northerner. If a non-financial industry person speaks up for that industry, particularly from outside the southeast, then people may take note. This is a non-banker speaking up for bankers. I think we are coming out of that era, anyway. I am interested in promoting an ethical City. We need financial services and sometimes things go wrong."
Dr Parmley believes that his background may also be an advantage in promoting other financial centres. "It's very important to remind people that the lord mayor represents financial services in the UK, not just the southeast. Two thirds of the jobs are outside the southeast."
The corporation is and always has been resolutely apolitical. No elected member is affiliated to any party. There was some debate, therefore, before Mark Boleat, chairman of the policy and resources committee and the senior official at Guildhall, where the corporation is based, came out in favour of Remain. Dr Parmley said that this stance was backed by 86 per cent of the stakeholders, the firms working in the City. He was also a staunch supporter of Remain.
Dr Parmley will be touring the City for the Lord Mayor's Show today, wearing his robes of office in his gold state coach, introduced after 1711, when one of his predecessors broke his leg falling off his horse. Some find this ceremonial off-putting in a modern democracy, but those who live in the City get a vote alongside the firms there and the franchise has been reformed recently.
He said: "It's ceremonial in the same way as the changing of the guard at Buckingham Palace. It's the sort of thing we do well." Lord mayors typically spend only a small proportion of their time in their ceremonial robes: "Ninety per cent of the time it's rolling up your sleeves and getting down to business."
Q&A
Who, or what, is your mentor?
Previous lord mayors, who have given me sound advice preparing me for the year ahead
Does money motivate you?
No, otherwise I wouldn't have become a teacher
What does leadership mean to you?
Inspiration, something we see every day in our country's classrooms
What was the most important event in your working life?
Joining the common council at the City of London Corporation
Which person do you most admire?
The Queen, a wonderful servant for the UK
What is your favourite television programme?
Strictly Come Dancing
How do you relax?
Listening to or playing music